Easiest, Dynamic Home Off-Grid Power Solution
*Estimated 1-Hour Install By Licensed Electrician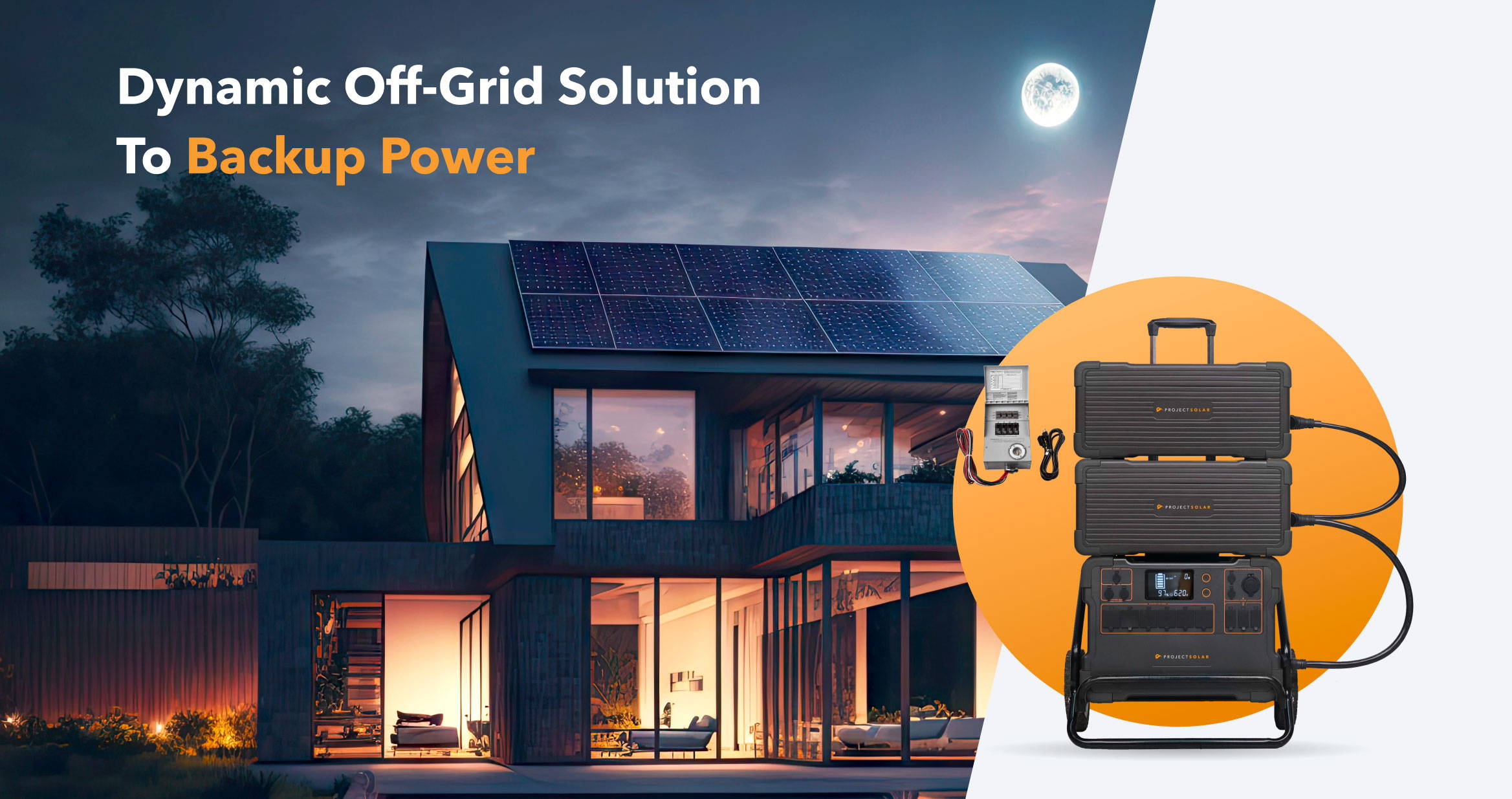 Build Your Home
Backup Kit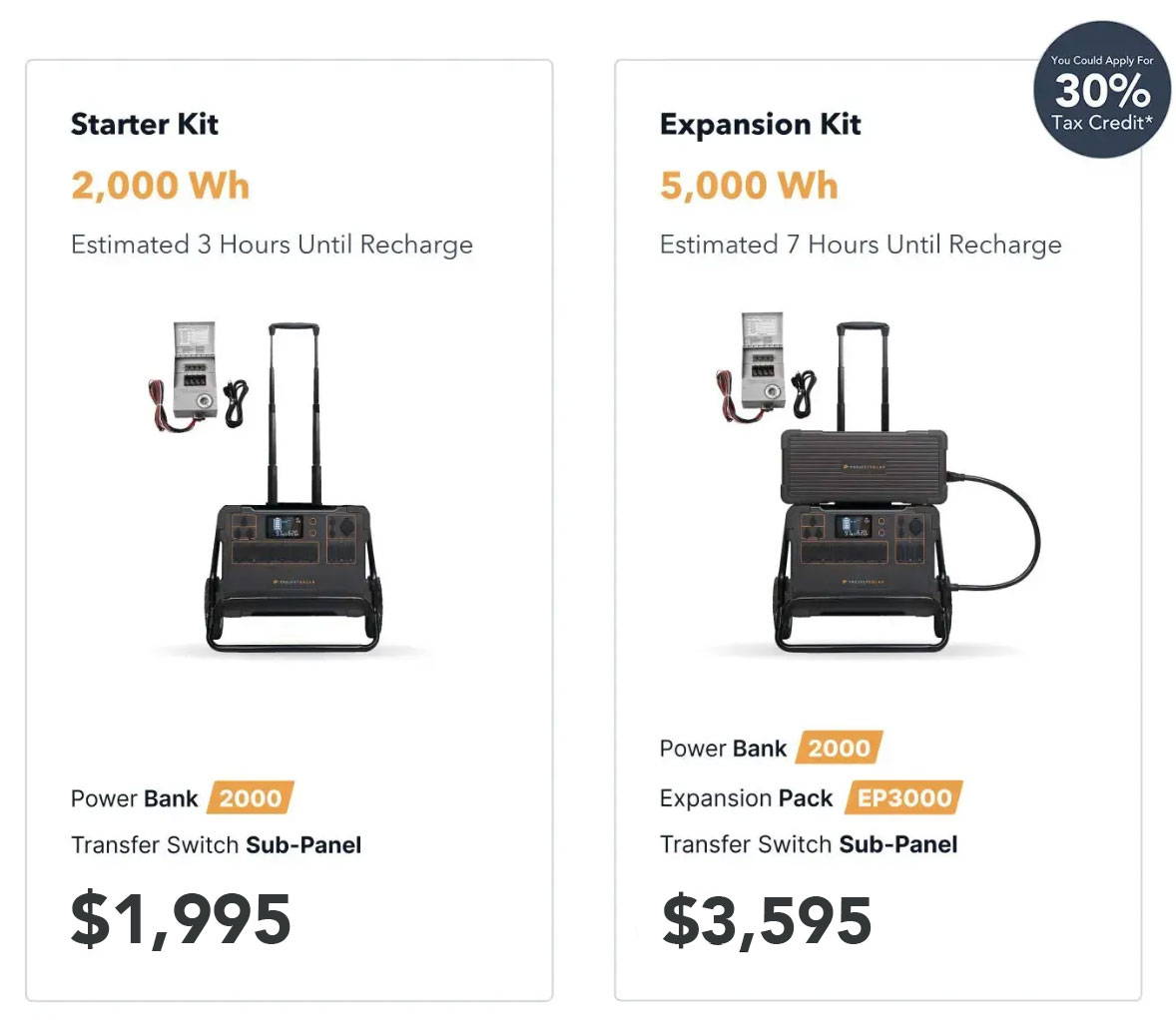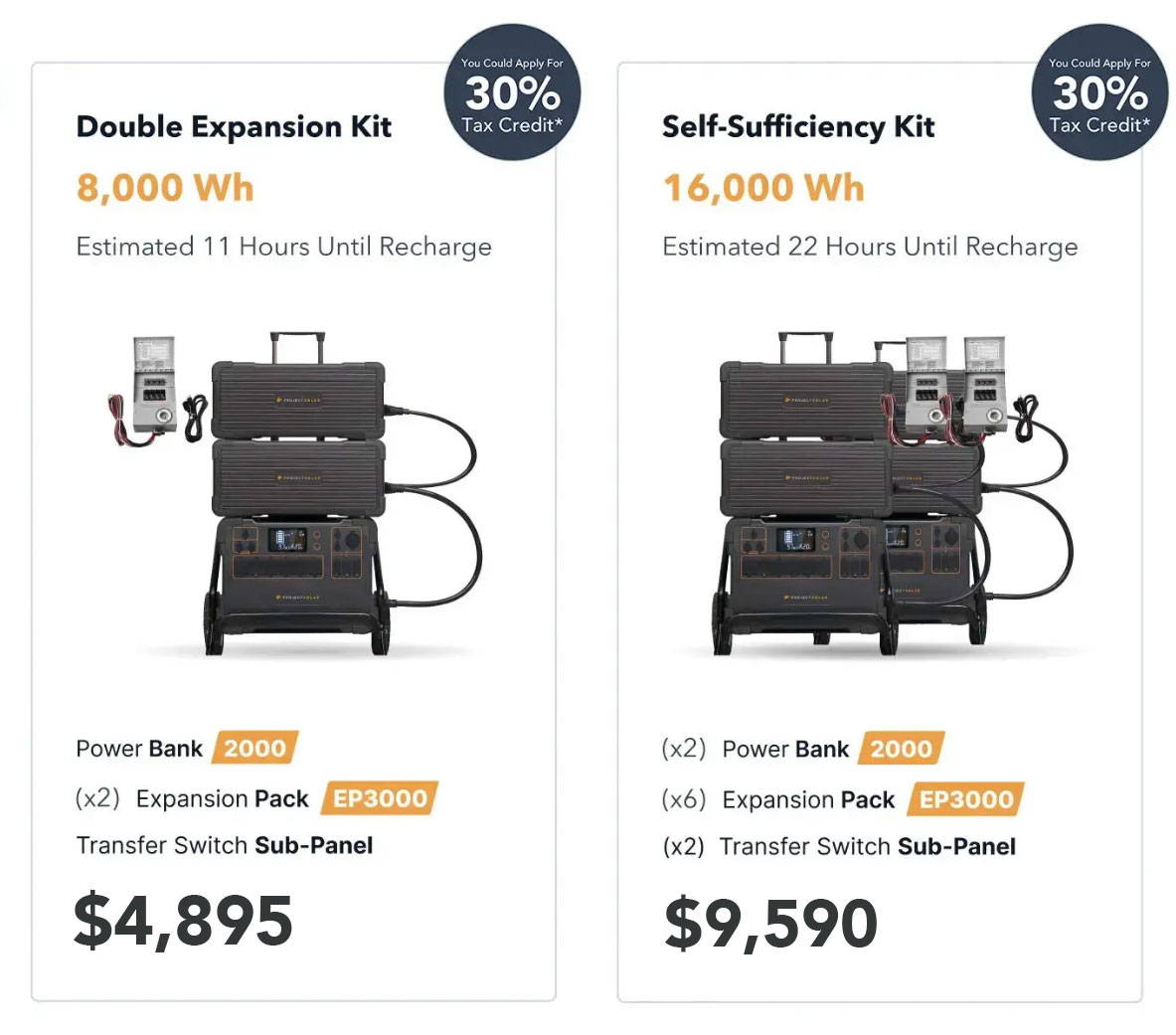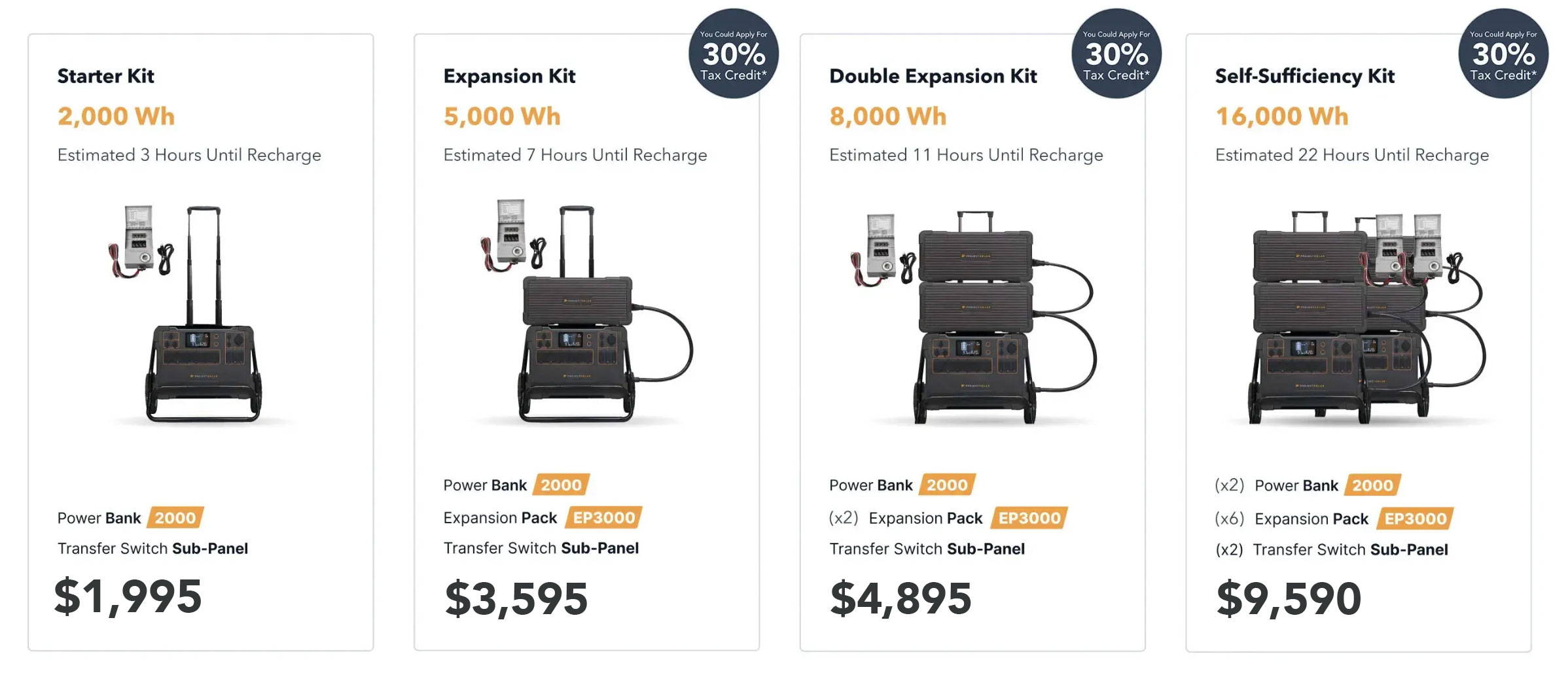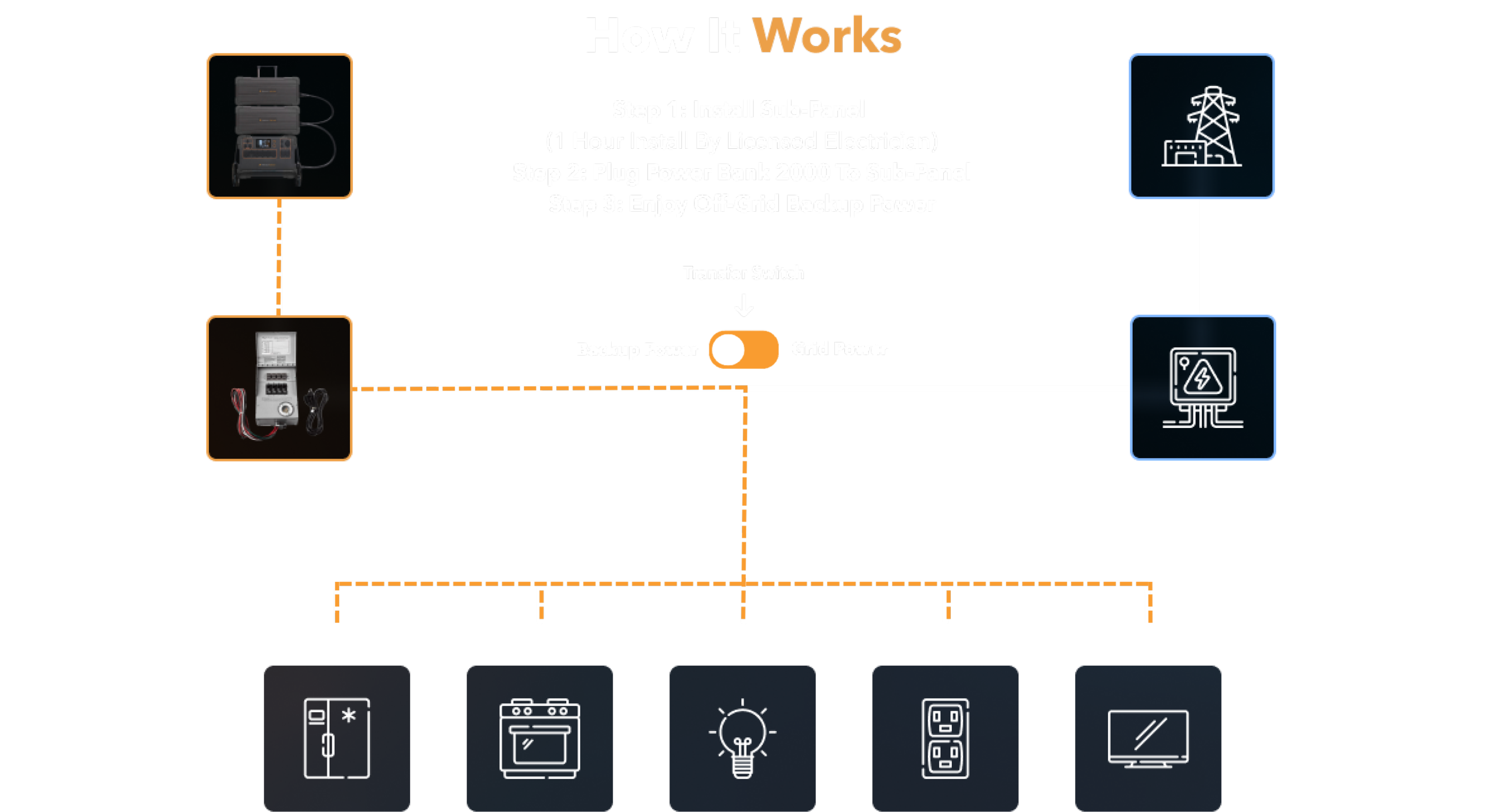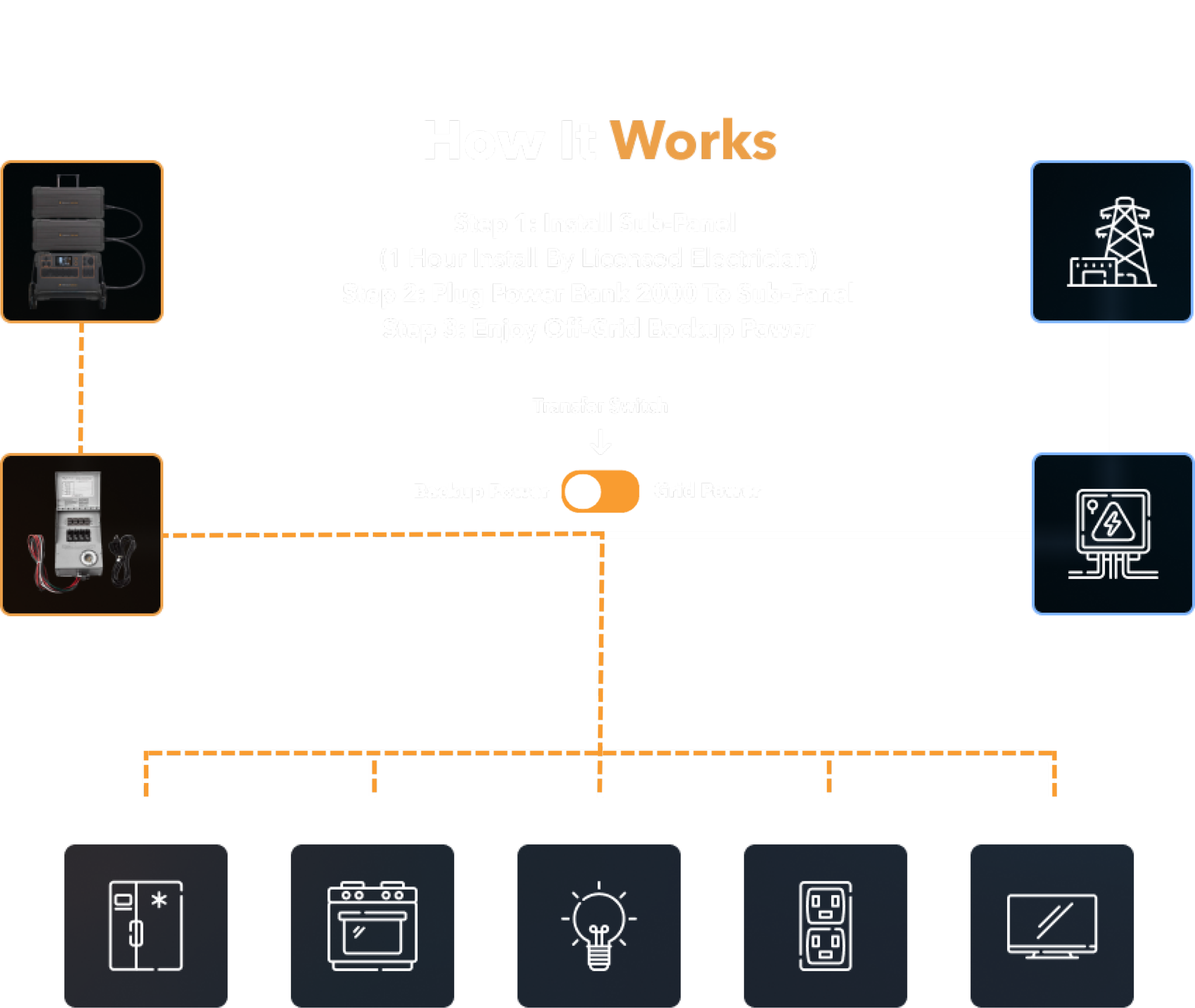 Take Your Power Bank
On The Road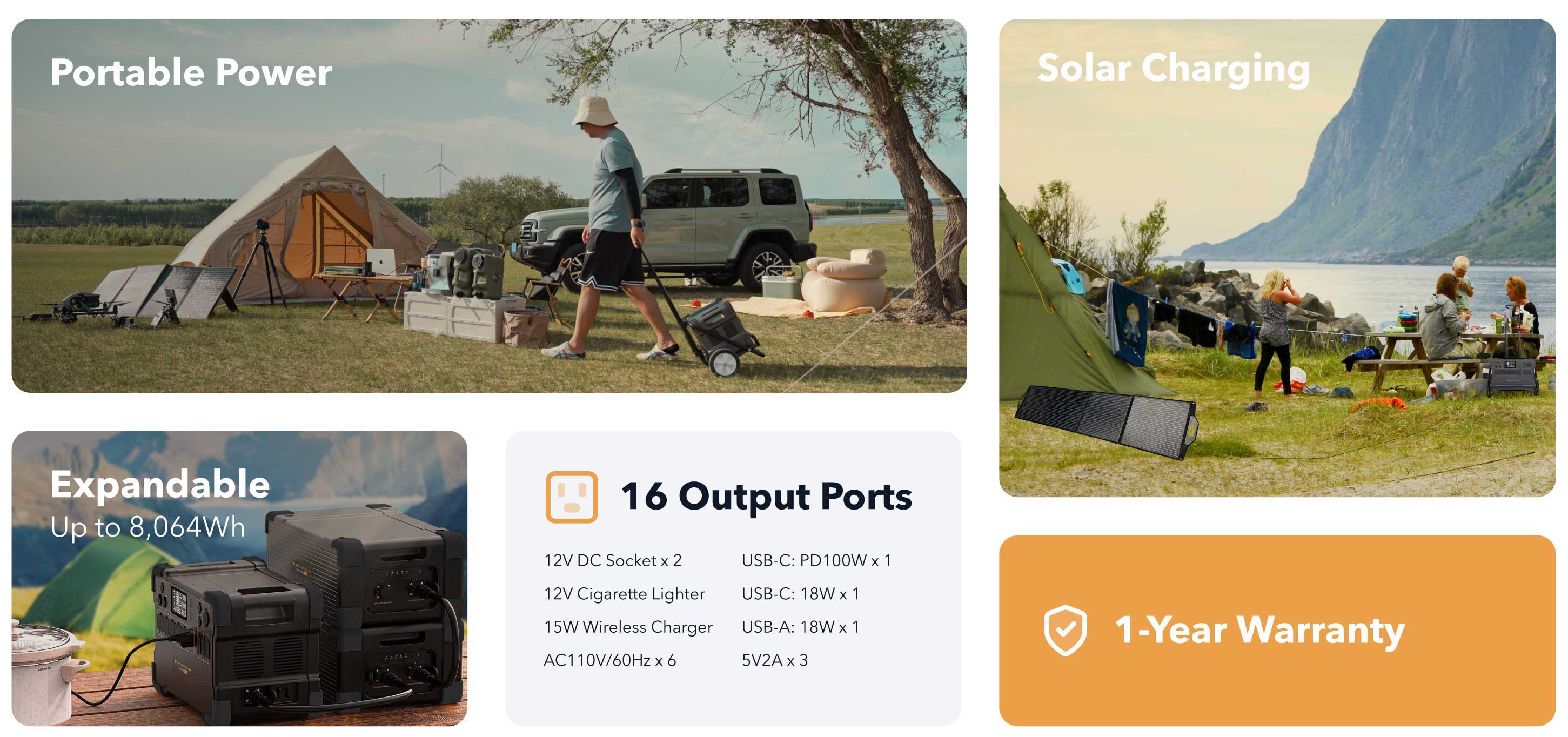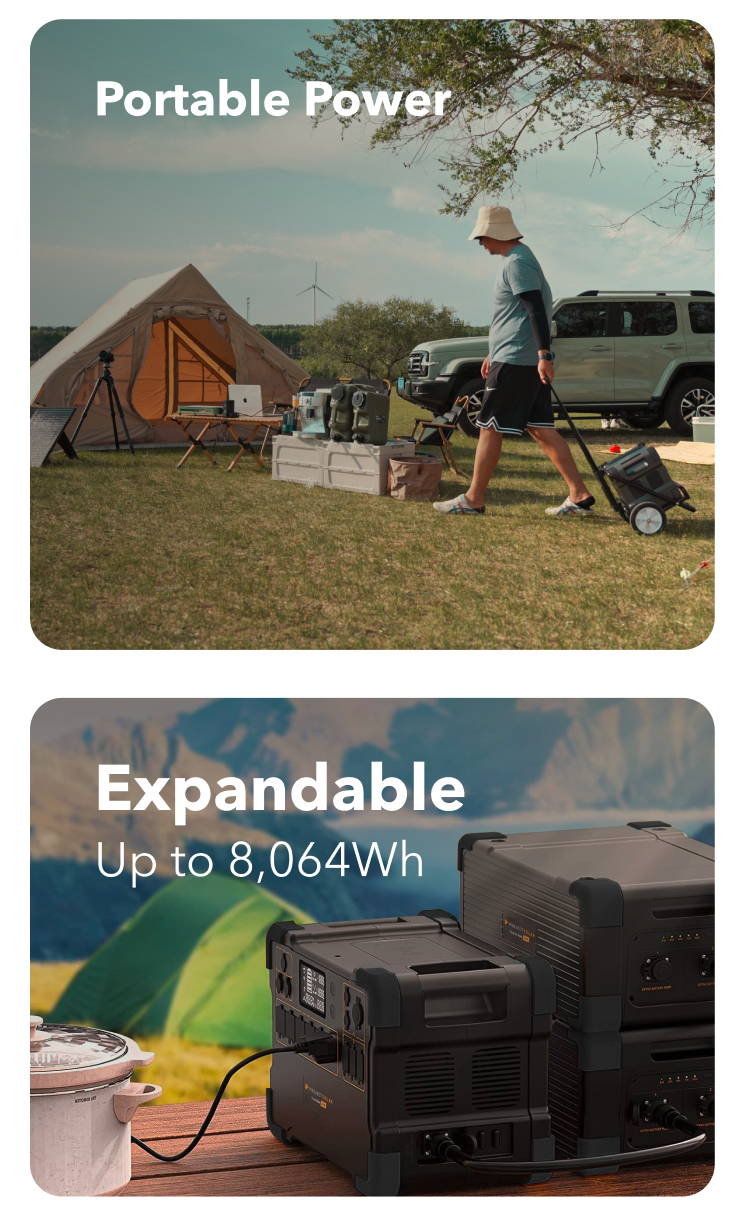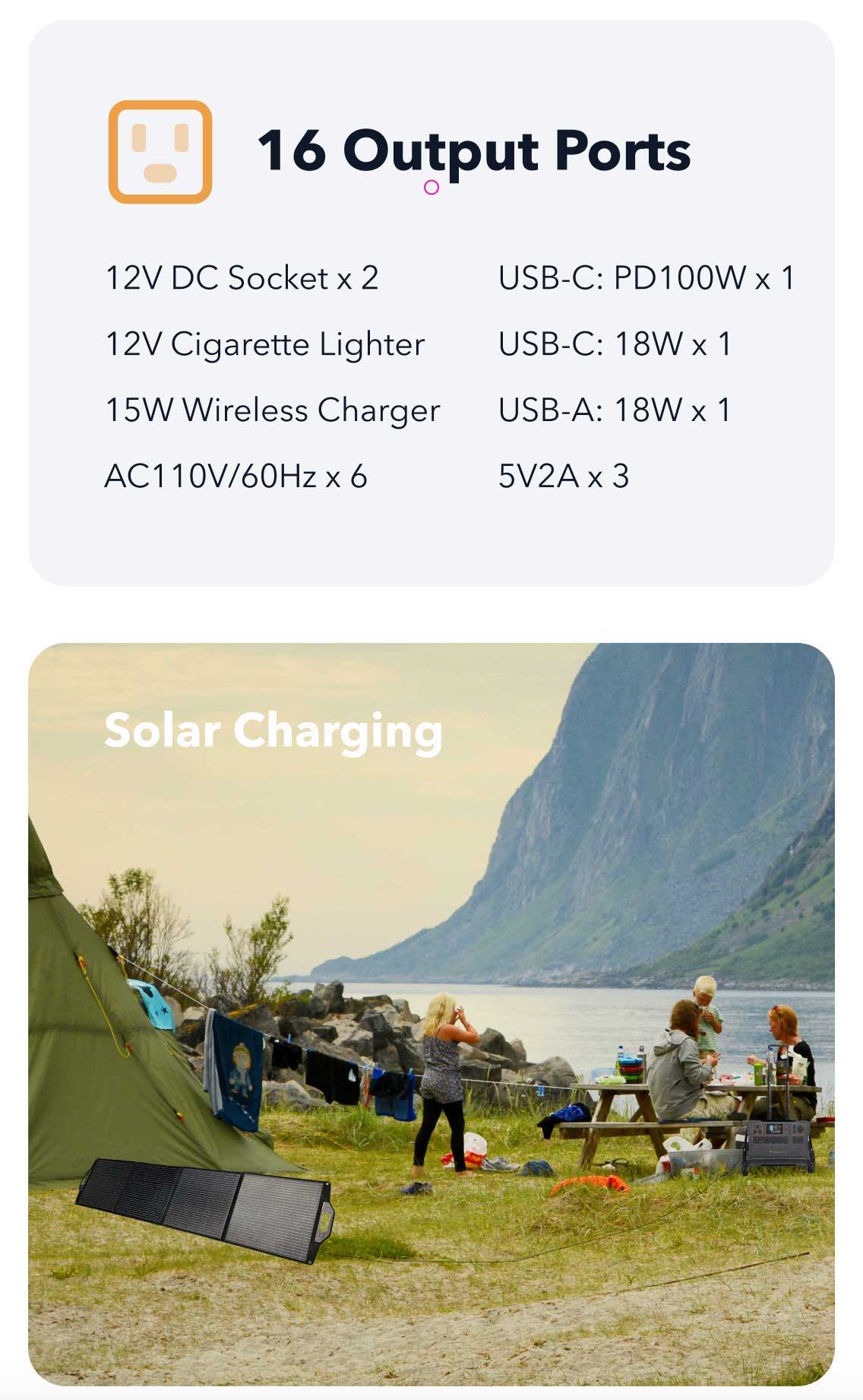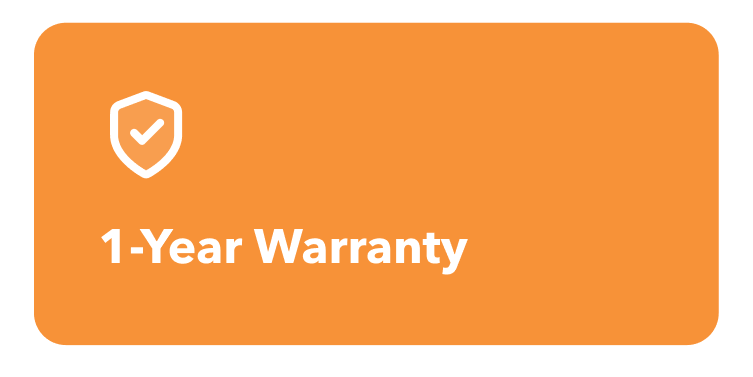 Get To Know What's In
The Home Backup Kit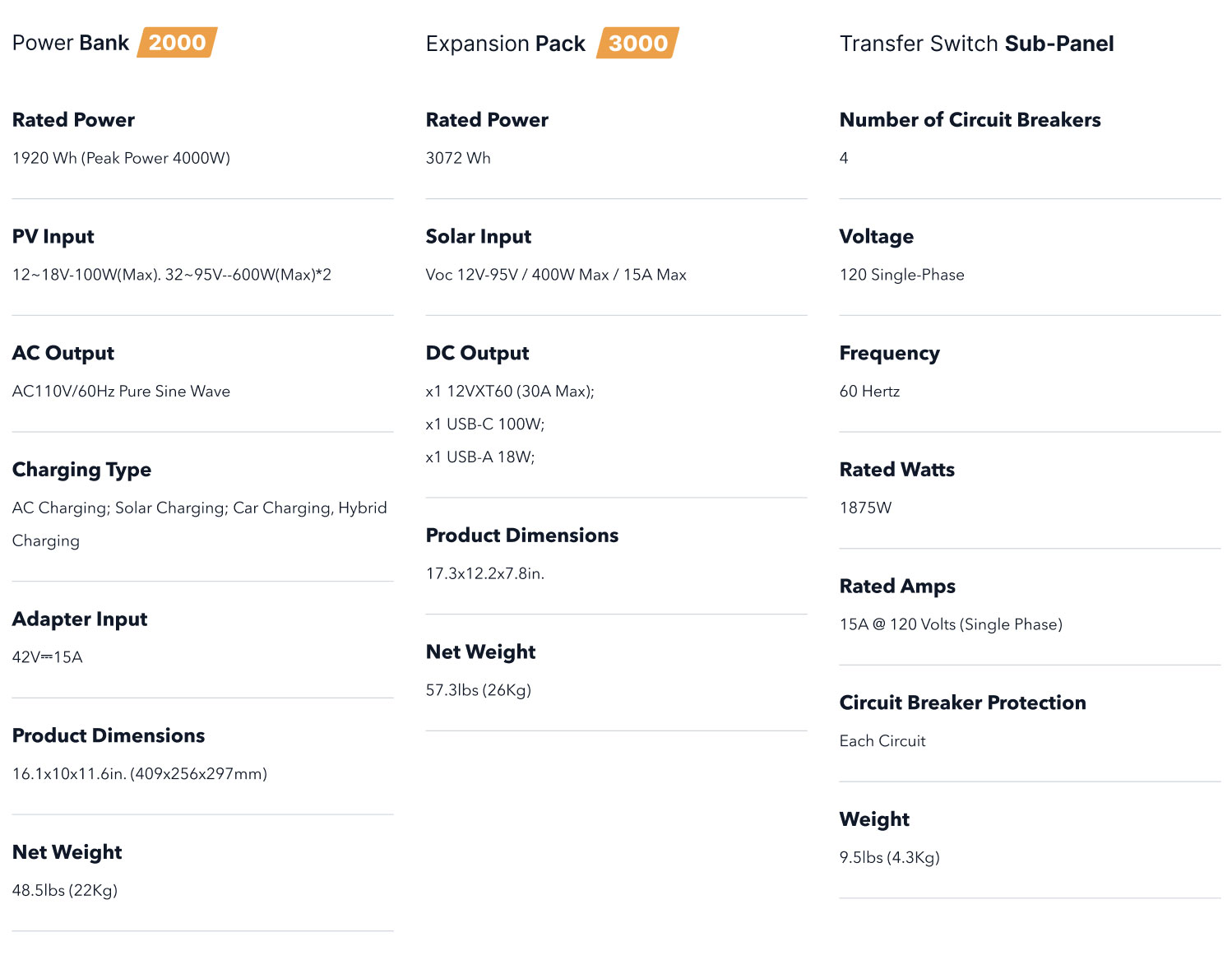 Free 4-7 Day Shipping To Entire Continental USA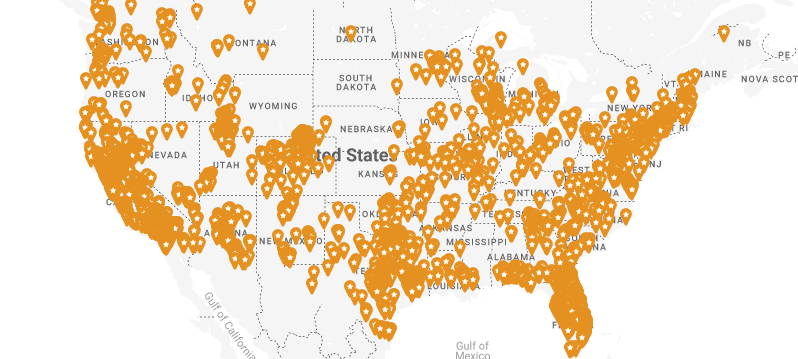 How many circuits can be backed up with my SubPanel?
You can backup up to 4 circuits, with an amperage of up to 15A.
How do I install the Transfer Switch Sub-Panel?
We recommend paying a licensed electrician to install the Transfer Switch Sub-Panel. It is fairly simple and shouldn't cost too much. To watch install video please click the 'WATCH INSTALL VIDEO' button under Specs.
Is my Power Bank locked into my house once I connect it to my SubPanel Transfer Switch for backup power?
No, it is not! The Power Bank will plug into the SubPanel with a simple cable that can be easily unplugged. For instance: you can connect your Power Bank for home backup during an outage, and then unplug it and bring it with you in the event of an evacuation.
Does this qualify for 30% Tax Credit?
As a company that specializes in low cost solar, we understand the importance of making renewable energy sources accessible and affordable to everyone.

The Federal Solar Investment Tax Credit (ITC) is a great resource for homeowners to save money while helping the environment.


The ITC offers a 30% credit on the total cost of a solar panel installation, including qualified battery storage and any additional necessary equipment.

In 2022, the Inflation Reduction Act extended this credit until 2034, and edited the language surrounding a "Qualified Battery Storage Technology Expenditure" to specify the following stipulations:


''(A) is installed in connection with a dwelling unit located in the United States and used as a residence by the taxpayer, and
'(B) has a capacity of not less than 3,000 Wh''
This means that batteries must be installed in connection with your home and have a capacity of 3kWh or greater–however, this also means that standalone batteries are eligible.
Our solution to this is the Expanded Home Backup Kit+. This kit includes a Transfer Switch Sub-Panel that is installed in tandem with your home's electrical system, which can provide backup for 4 circuits. Without at least one Expansion Pack, the Power Bank 2000 does not meet the minimum capacity requirements outlined above.

Can I charge my Power Bank with this SubPanel?
No, this SubPanel can only draw power from your Power Bank – it can't charge it.
You can, however, charge your Power Bank with a car charger, standard AC charger, or solar panels while it's connected to your SubPanel. Just make sure not to exceed the power rating listed in your User Manual.