Power
Wherever

You Want,

Whenever

You Want It.
Power it ALL! Be prepared for blackouts, camping, projects and emergencies.
This battery can power anything up to 2000 watts.
Calculation Example: Assume power consumption of your device you want to use is 300W, working time will be 1920Wh*0.85/300W=5.4hrs (roughly).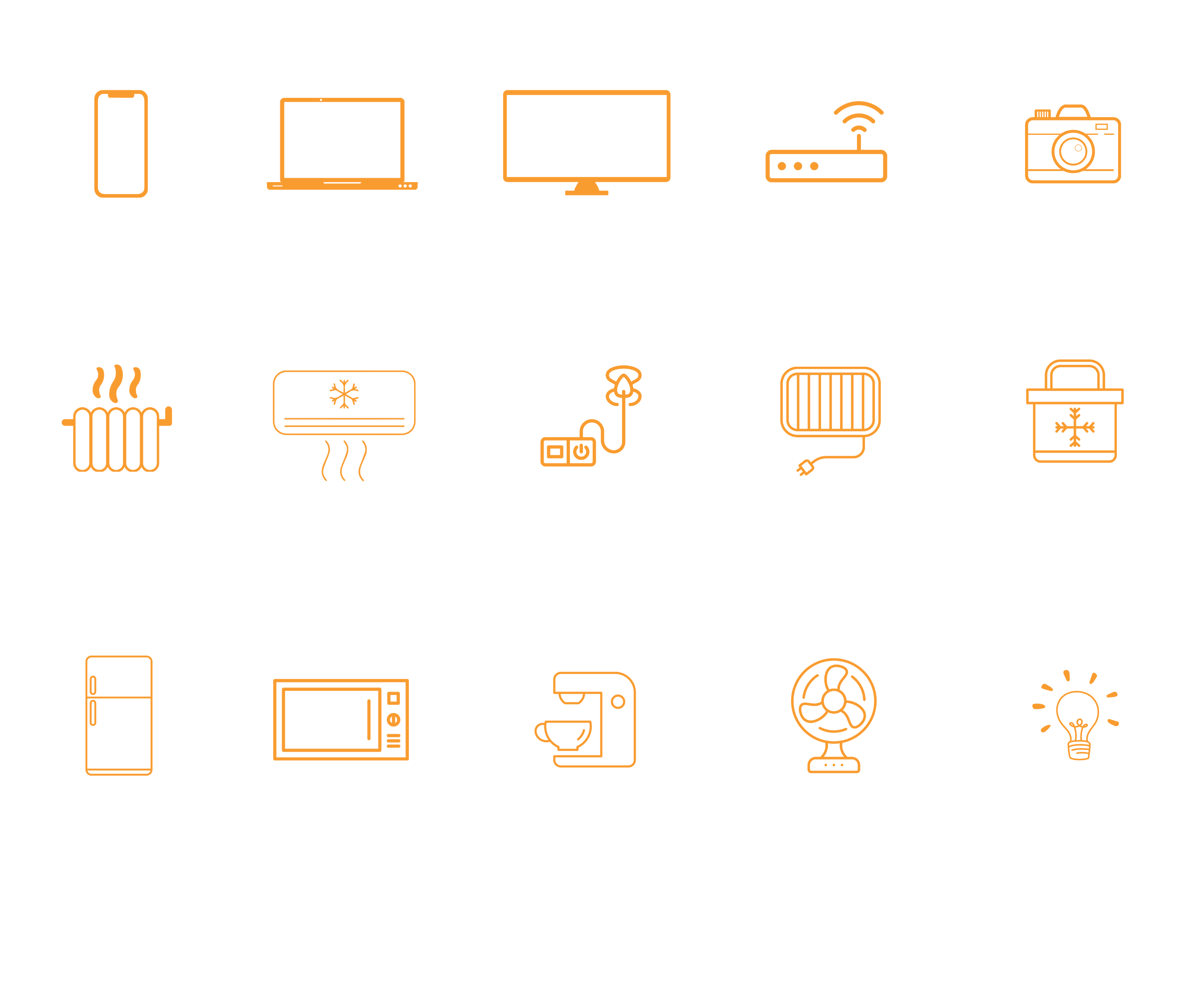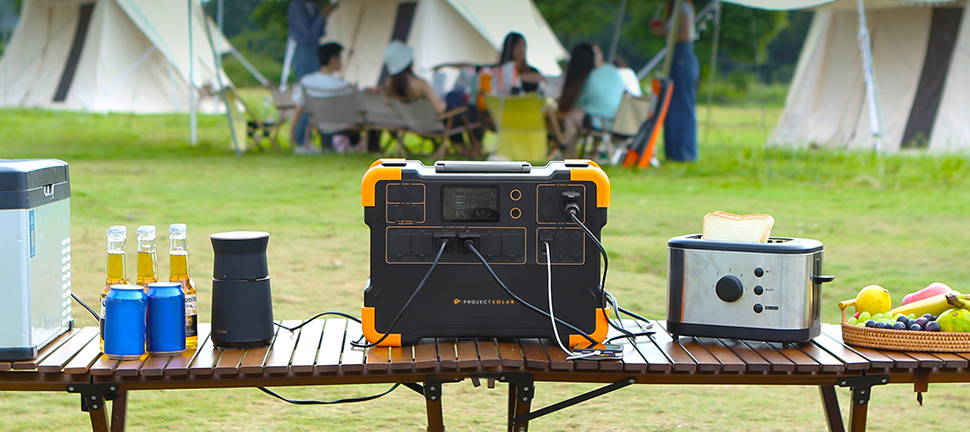 • LiFePO4 Battery with 3,500+ Life Cycles to 80%
• 1920Wh Large Capacity
• Expandable Up to 8kWh
• Bidirectional Charge Flow Between Main Unit & Expansion Battery
• 2000W Rated Pure Sine Wave Inverter (Surge 4000W)
• 1300W Max Solar Charging
• 1-2 Hours Super Fast Charging
• 16 Versatile Output
• 15W Wireless Charger
• PD 100W USB-C
• Charging Type: AC Charging; Solar Charging; Car Charging, Hybrid Charging
• AC Output: AC110V/60Hz Pure Sine Wave
• PV Input: 12~18V-100W(Max). 32~95V--600W(Max)*2
• Car Input: DC 12~18V--100W(Max)
• Adapter Input: 42V⎓15A
• Rated Power: 2000W(Peak Power 4000W)
• DC Output: 12V Regulated Cigarette Lighter; 12V(5.5mm) DC Socket*x2; USB-C: PD100W x 1; USB-C: 18W x 1; USB-A: 18W x 1; 5V2A x 3; 15W Wireless Charger
• Charge Controller: Three MPPT
• Product Dimension: 16.1x10x11.6in.(409x256x297mm)
• Net Weight: 48.5lbs(22Kg)
This battery was built to stand the test of time utilizing premium LiFePO4 (lithium iron phosphate) batteries which can retain 80% of its original capacity at 3500 complete charge cycles; Cast in UL94V flame-retardant ABS plastic to provide added safety and durability; All ports are covered by high-grade TPU protective cap which is resilient to daily stretching and tearing..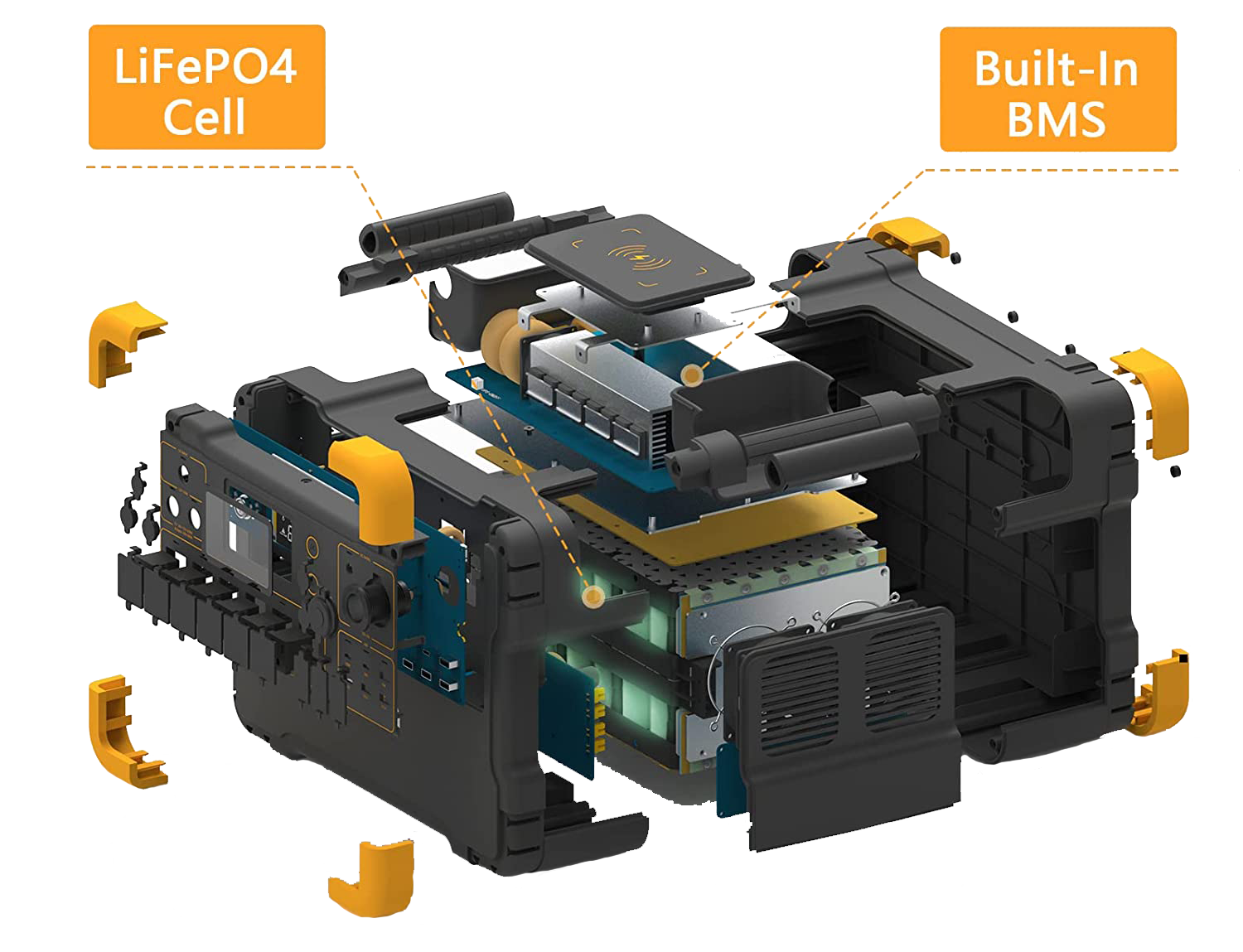 Free 4-5 Day Shipping To Entire Continental USA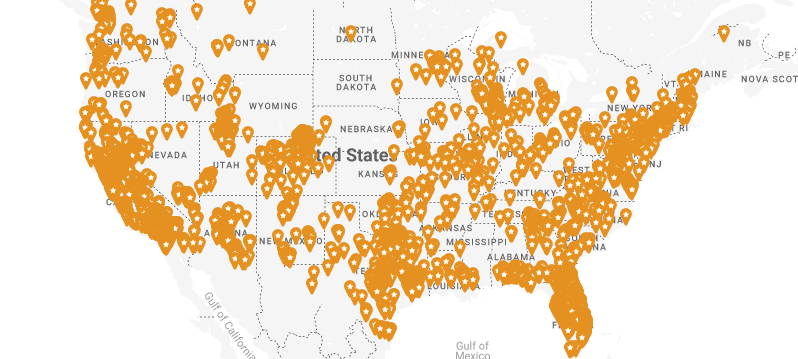 Q: What devices I can run on the E2000LFP portable power station?
A: You can run any device with a consumption power no more than 2,000 watts. However, inductive types of loads such as freezer, fridge, compressor, and motor require a much higher power to start (approx. 3-7 times larger than its rated power).
Q: How to calculate my Batterie's running time?
A: The running time is calculated as:
Total Capacity(Wh) x 90%(depth of discharge) ÷ Consumption Power(W);
For example, E2000LFP can run your 60W portable refrigerator:
1920Wh x 90% ÷ 60W =28.8H
(With two additional EB3000, it can run your fridge 121 hours continuously)
Q: Does the Battery have a built-in MPPT charge controller?
A: Yes, this battery equips three independent built-in MPPT charge controllers, each supporting PV of 32V-95V(Voc: open circuit voltage) charging up to 600W: 12~18V-100W(Max). 32~95V--600W(Max)*2. It greatly improved the charging efficiency and effectiveness.
Q: How to utilize Batteries 1200W input capacity?
A: To utilize its 1200W input capacity, you can get an extra 600W AC charger for it; For solar panels, you can parallel three Aurora 200W solar panels on each 5-pin aviation charging port; A combination of a 600W AC charger and 600W solar array can also provide a total of 1200W input.
Q: Can I use other solar panels with the Battery?
A: Yes, this battery is compatible with most third-party solar panels on the market. Just make sure that your solar panel/array has an operating voltage in the range of 12V-95V: 12V~18V-100W(Max). 32V~95V--600W(Max)*2
Each Expansion Battery Pack adds an extra 3072Wh. Expand your Batterie's capacity up to 8,042Wh by adding expansion packs.
A maximum of 2 expansion packs per battery.